---
About this event:
Created by Team AZFLIS
---
Tempe Mission Palms Hotel and Conference Center 60 East 5th Street Tempe, Arizona 85281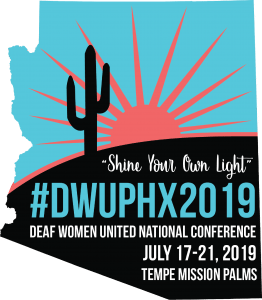 Deaf Women United (DWU) organization with Phoenix Deaf Women Organization (PDWO) as the affiliate host, is planning a Biennial National DWU Conference, "Shine Your Own Light!" on July 17 through July 21, 2019 in Tempe, Arizona.
The conference includes attendees from all walks of life: women of inspiration and interpersonal connections.
The purpose of this conference is to offer personal and professional development to all who attend.
We are thrilled to host this amazing event and look forward to seeing you all there! Let us SHINE together!
Registration includes:
Opening Ceremony
Keynotes
Workshops
DWU membership for 2 years (2019-2021)
DWU general meeting
Other exciting festivities
Deaf Women History and Art Gallery
Breakfast, Lunch, and Dinner
Closing Ceremony Gala.
For more information, contact our Conference Chair, Kim Minard at: conference.chair@dwu.org
Hotel Reservation: DWU 2019 Guest Link
Get Tickets Here
Biennial National Deaf Women United Conference Sponsors